Welcome on board "Island Dancer" a 30′ Island Hopper Divemaster Special. She is laid out specifically for diving and snorkeling. With a wide beam and a maximum of 6 divers, there is plenty of space.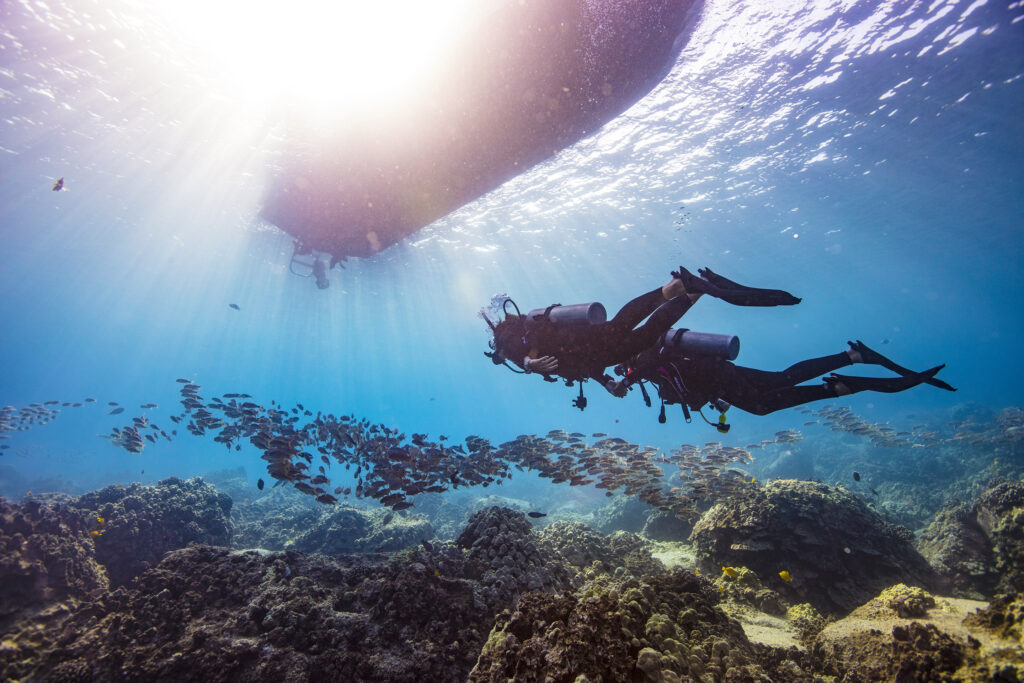 What makes us stand out from other dive operations is instead of just crowding you onto a boat we provide personal service for all our divers. Our guides don't just swim around but guide you through some of the most beautiful areas of the dive site. You'll receive the highest standard of service with Key Largo's best dive guide. We don't have a retail store or to try and sell anything. Our focus is purely on providing incredible diving charters.
When you arrive you will be checked in. We always recommend setting up your own gear but we can assist you if its been a while. After the Captains' briefing your dive guide will go over the dive with you. On the way to the first of your two dives, enjoy the beauty of the Florida Keys. Once we arrive you'll be guided through your dive. As you're changing your gear to your second tank we will move to another dive site. This is usually a short surface interval and we are back in the water exploring another beautiful location. After your dive relax and enjoy some complimentary bottled water and snacks. We have a fresh water rinse on the boat so you can wash away the salt water. After we return to the dock there is a sanitized fresh water tank to rinse all your gear.
We have a variety of dive locations from reefs to wrecks. All our dive trips are a 2 tank dives and the total trip is about 3.5 – 4 hours. We offer a variety of locations to dive. We can often schedule a custom trip for you and your group. Just give us a call.
We run two trips a day. Check in for the morning dive is from 7:30. The boat departs at 8:00 am. Check in for the afternoon dive is from 12:30pm. The boat departs at 1:00 pm. If you have any questions, please just give us a call.
Divers under the age of 18 are welcome but must be accompanied by an adult diver.
You must be a certified diver and have your physical or digital card with you.
2 Tank two Location Boat Dive
INCLUDES:
Boat travel
2 tanks
Weights
Bottled water and snacks
Rental equipment is available and can be selected at checkout
"Basic Kit"
This package includes a mask, snorkel and fins
"Scuba Kit"
This package includes a regulator set and a BCD
"All Inclusive Kit"
This package includes everything in the "basic Kit" and "Scuba Kit"
Digital Camera / GoPro Rental
Great for taking photos and 4k video. You will then be provided with the 16GB card to take home
CANCELLATION POLICY
We understand that it may be necessary to cancel for a number of reasons. Due to abuse of prior policies it is necessary for us to detail the cancellation policy. There is a 48 hour cancellation policy when reserving on our boat, dive instruction or other services. If cancelling after 48 hours prior to scheduled booking or a no show, there will be no refund for any boat trips, instruction or other services. All phone bookings will be charged in full at the time of booking. At the time of charter the captain advises of marginal conditions and you choose to continue then decide not to dive, there will be no refund.
If we cancel due to unforeseen circumstances or due to in-climate weather, a full refund will apply.
we recommend trip insurance to cover expenses/non-refundable payments for any unforeseen circumstances during your trip. We recommend divers insurance such as DAN for unexpected medical expenses.