Everything is provided for you. We will provide you with a mask, fins and snorkel. If you have your own and want to bring, that is fine too. We also have swim noodles and snorkeling vests. You just show up and enjoy our beautiful reefs. We have multiple locations to choose from so you will see the beauty of the third largest barrier reef in the world.
We have morning and afternoon trips. Check in for the morning trip is 7:30am the boat departs at 8:00am. For the afternoon trip, check in is between 12:30pm and the boat departs at 1:00pm. The trip will last between 3-4 hours depending if we are also scuba diving.
Snorkeling Trip ( all inclusive) $95.00
NOTICE: Due to the escalated injuries and deaths from the use of full face snorkeling masks, no one will be allowed to use any full face snorkeling mask under any circumstances.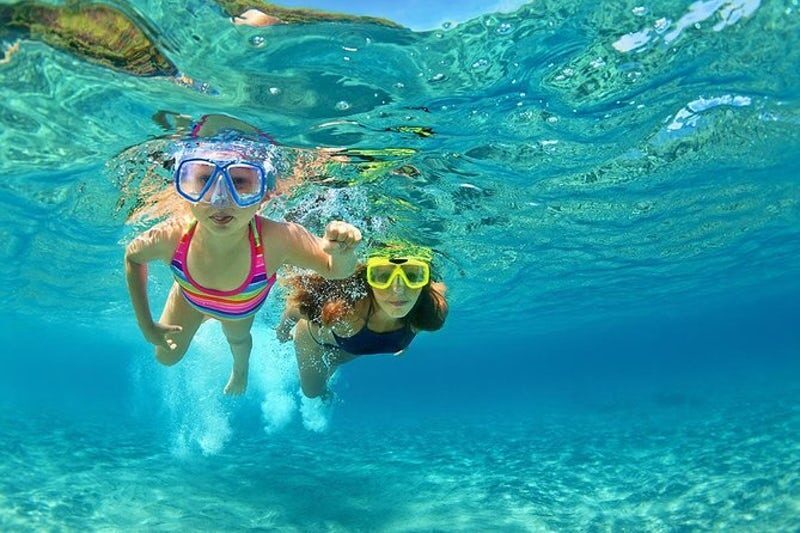 CANCELLATION POLICY
We understand that it may be necessary to cancel for a number of reasons. Due to abuse of prior policies it is necessary for us to detail the cancellation policy. There is a 48 hour cancellation policy when reserving a boat trip, dive instruction, or other services. If cancelling after 48 hours prior to your scheduled booking or a no show, there will be no refund for any boat trips, instruction, or other services. At the time of charter the captain advises of marginal conditions and you if choose to continue then decide not to dive, there will be no refund.
If we cancel due to unforeseen circumstances or due to in-climate weather, a full refund will apply.
We recommend trip insurance to cover expenses/non-refundable payments for any unforeseen circumstances during your trip. We recommend divers insurance such as DAN for unexpected medical expenses.